Modelling the EU economy as an ecosystem of contracts. Volume 2, Methodology study
The goal of this report is to provide the first methodological approach to modelling the European economy as an ecosystem of contracts. Work Package 1 of this overall study aims to: – Continue the work started during the feasibility study and validate the operational approach towards the Open Trust Fabric. – Deep dive on the relational, economic, legal aspects of contract transacting. – Provide a theoretical framework for modelling the economy as an ecosystem of contracts. This report does not provide a final analysis of modelling the EU economy as an ecosystem of contracts. On the contrary, this report aims to describe the methodologies and the architectural choices made in the development of this approach.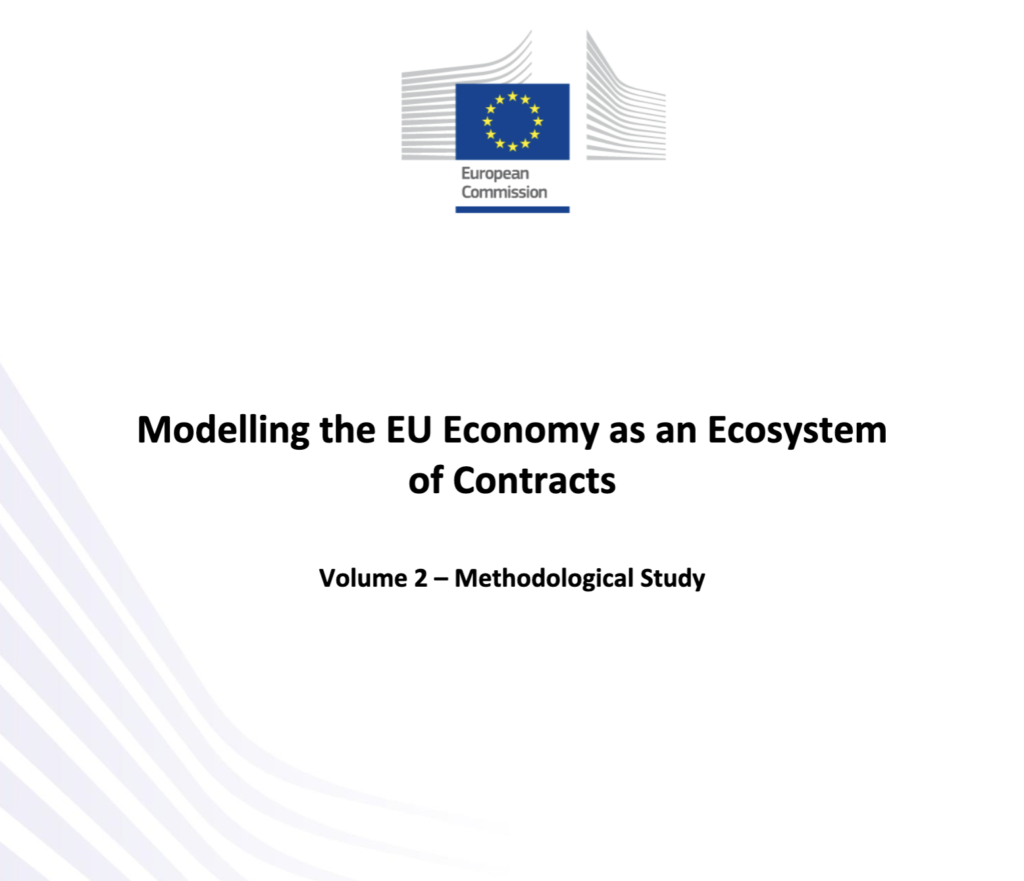 This document summarise the findings of Work Package 3 (WP3) of the "Modelling the EU Economy as an Ecosystem of Contracts (Methodology Study)" study. The purpose of this study is to represent the European Economy as a interconnected network of contracts. Contracts are boundary objects capable of modelling relations across different economic agents. By developing a framework for the analysis of such contracts, individuals, companies, and policy makers might find novel insights into the workings of today's economies. Analytical decision points of WP3 were developed in alignment with the theoretical model within WP1. The activities of WP2 and then WP3 were developed in an iterative fashion to ensure that collected data could effectively inspire and apply the results achieved by the economic modelling activities in WP1. This document provides the outcomes of three different use cases that test the feasibility of using contracts as modelling tools in different settings, namely: digital platforms (with a specific focus on the accommodation industry and short lettings), innovation ecosystems (with an analysis of the Italian innovation ecosystem) and distributed ledger B2B contracts (with a deep dive on how to use smart legal contracts and to create a transparent and accountable network of self-executing and enforcing contracts). This document describes the iterative approach used for the analysis, the key insights obtained and the resulting potential use for policy makers. The document concludes with an indication of the potential scalability of the presented approach and the next steps. This report comes complemented with code and contractual data that are an integral part of the deliverable.
Read the methodology study published by the European Commission here